KONNWE KW310 Feature:
· Professional OBDII CAR ENGINE DIAGNOSTIC SCANNER TOOL: KONNWEI KW310 OBD2 Diagnostic Tool Is Designed for Engine System, It Can Fast Read and Clear Vehicle Engine Trouble Codes, Turn off The CHECK ENGINE LIGHT (MIL). Easy to Operate, Even a Beginner Can Easily Use to Find Out What the Problem Is About Car Engine System and Perhaps Fix It. Absolutely Saving Time and Money When You Can Diagnose The Car By Yourself Anytime and Anywhere.
· MULTIFUNCTION OBD2 VEHICLE ENGINE FAULT CODE READER: Supports All OBDII Scanner Functions: Read &Erase Engine Fault Code; Build-in Fault Codes Definition Lookup Library; Views Freeze Frame Data; Reads Live PCM Data Stream in Text or Graph; On-board Monitoring; Displays I/M Readiness; Oxygen Senor and Evaporative Control System Test, etc. Convenient for You to Know the Real Time Status of Your Vehicle without Going to Car Repair Shop.
·EXCLUSIVE AUTO DIAGNOSTIC SCAN TOOL: HELP KEEP THE CAR ANNUAL EMISSION TEST: With KONNWEI KW310 OBD2 Diagnostic, You Can quickly and Find out The Emission Error Detect Green / Yellow / Red Indicator Light to Notify You of The Outstanding or Existing Error. Check the Health of the Engine System by Yourself without Going to the Garage. Help You Go Through the Annual Emissions Test Easily.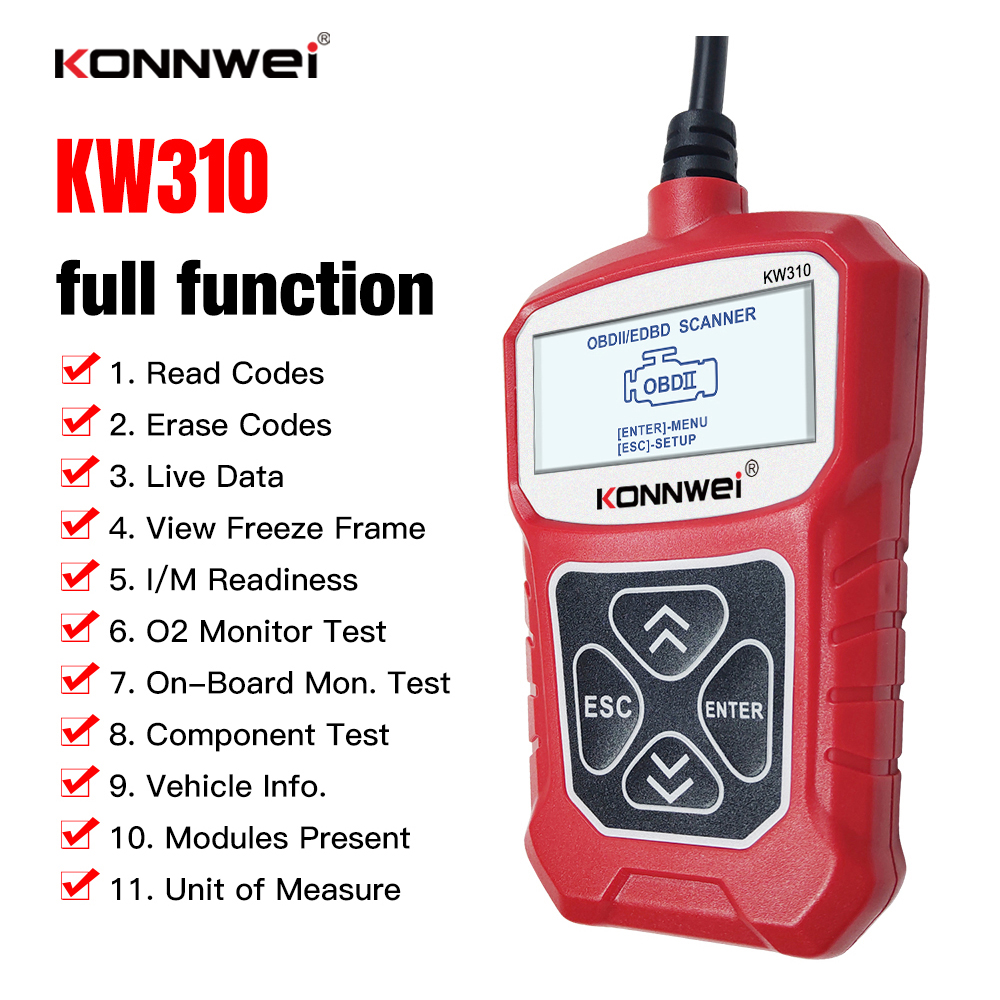 Function List
1. Features the unique patented One-Click I/M Readiness Key for quick State Emissions readiness check and drive cycle verification
2. 2.0 Inches backit screen and built in speaker provide both visual and audible indication for readiness verification
3. Retrieves generic (P0, P2, P3, and U0), manufacturer specific (P1, P3, and U1) codes, and pending codes
4. Easily determines the cause of the Malfunction Indicator Light( MIL)
5. Turns off Malfunction Indicator Light (MIL), clears codes and resets monitors
6. Views freeze frame data
8. Displays monitor and I/M readiness status (emissions)
9. Reads live PCM datastream
10. Retrieves vehicle information(VIN, CIN and CVN)
11. Multilingual menu and DTC definitions
12. Extremely easy to use and highly reliable
Car Diagnostic Scanner Languages & Support Protocol:
7 languages:
English, French, German, Dutch, Spanish,Russian,Portuguese.
Support Protocol:
ISO 9141, KWP2000, SAE J1850, CAN,J1850 VPW,J1850 PWM, support system: XP WIN7 WIN8 WIN10
Package list:
1pc x KW309 OBDII Scanner
1pc x User Manual