KW350 work for full system on VW AUDI SEAT SKODA etc series car . It not only supports VW KWP2000,KWP128 protocol but also TP-CAN and UDS new protoco while it supports OBDII & EOBD Fault code reader function . It covers to JETTA/Bora/Santana/Sagitar/Magotan/Golf/Beetle/Tiguan/Tourag/Passat/ Fabia/Octavia/Superb, etc car.

2 languages: English,German

KONNWEI KW350 is a super scanner for detecting the Volkswagen Series and OBD II vehicles. KW350 is a good assistant for car owners, you could test all cars under VAGIt supports not only the KWP, TP-CAN and New UDS protocols, but also all OBD II protocols. It is small, light, handy and versatile, it gets data quickly, we believe that you would love it.

KW350 Full system diagnostic scanner can work on 101 system on ECU for VAG Series car such as JETTA/Bora/Santana/Sagitar/Magotan/Golf/Beetle/Tiguan/Tourag/Passat/ Fabia/Octavia/Superb, etc. 4 Special Function : Auto oil reset ,throttle learning,Brake Pad replacement,Battery matching. It is able to shut down the engine, automatic transmission, ABS Brake and SRS airbag, transmission,warning light,engine , Oil Reset, TP Position Check, Brake Pad Reset, power, classis, vehicles body information, air conditioner and others system.etc.

The most importantly ,KW350 Support All 12V Gasoline And Diesel Vehicles /Hybrid Electric Vehicles with OBD2 EOB Protocol.

It is a Enhanced OBDII scanner that can read and earse the trouble codes that can cause emission problems with your vehicle,

turn off the MIL (check your car engine) and I/M readiness , read data stream, vehicle identification Info (VIN, CIN, CVN).

Built in a DTC lookup library you can find the related code definitions to help you determine if your car needs repair, save you time and money.

In a conclusion : KW350 not only is a full system scanner for VAG series car but also a engine scanner for most of 12V car from asia europe american with obd2 protocol.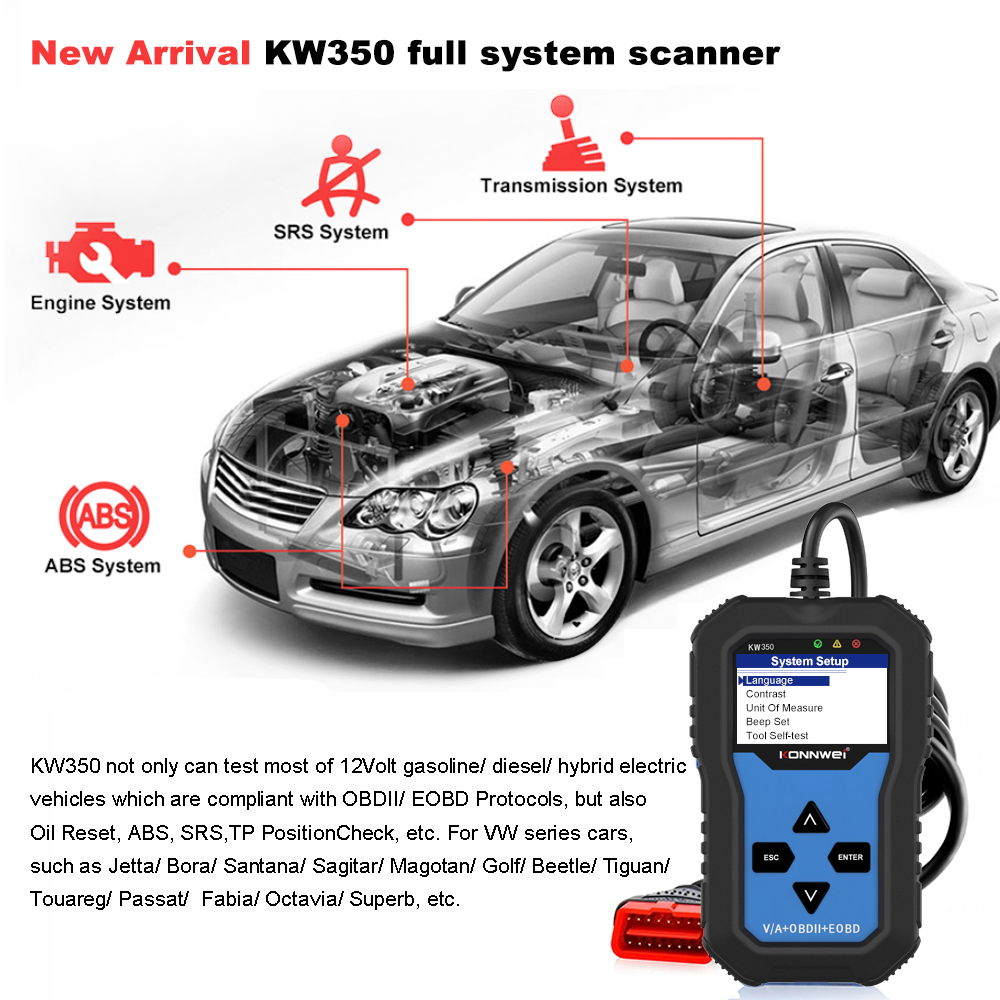 Feature :
Auto Transmission System
Airbag SRS System
ABS Brakes System
Center Lock System
EPB Reset
Oil Service Reset
Battery matching
TPS Check
Auto Air Condition HVAC
Steering Wheel
Instruments
Aux .Heat
CAN Gateway
Immobilizer
Centr .Locks
Central Cony
Throttle Adaptation
Read & Clear Error Code
Above is Supported For VW for Audi / For Skoda / For Seat etc V/W Series cars .
KW350 also can tested most 12V OBD2 Protocol cars after 1996 .
Fuctions for VAG

01. MENUCOMM: Engine, Auto_Trans, ABS_Brakes, Auto_HVAC, Cent_Elect, Airbags, Steering_Wheel, Instruments and so on.
02. MENUDRIV: Engnie, Diesel Pump, AutoTrans, AWD etc.
03. MENUCHAS: ABS Brakes, Susp_Elect, Chassis Control, Airbags, Steering Assist, Tire Pressure and so on.
04. MENUCOMF: AutoHVAC, Position Sensing, Steering wheel, Aux_Heat, LaneChange, Central Cony etc.
05. MENUELEC1: Immobilizer, Instruments, Cent_Elect, Navigation, CAN Gateway, Tow protection etc.
06. MENUELEC2: Data Transfer, Media Player, CtrlHeadDash, Inform_Electr etc.
Top 6 Reasons to get KW350:

1. Delicate and Portable
2. Automatic Scanner System, easy to operate
3. Multilingual Menu: English, French, German, Dutch, Spanish, Russian, Portuguese
4. Economical and practical
5. Oil Reset for vag
6. Fast diagnosis and get data quickly


Application :
1) Full sytem is suitable for vehicles:
For VW
For AUDI
For SKODA
For SEAT
It matches all the functions of 1551/1552 for VAG

2) Engine system for vehicles:
It Works on all 1996 and newer cars & light trucks that are OBDII compliant (including the VPW, PWM, ISO, KWP 2000 and CAN protocols).

KW350 Specification
1) Display: Backlit, 128 × 64 pixel display with contrast adjustment
2) Operating Temperature: 0 to 60°C (32 to 140 F°)
3) Storage Temperature: -20 to 70°C (-4 to 158 F°)
4) External Power: 8.0 to 18.0 V power provided via vehicle battery
5) Dimensions: 12.7*7.8*2.0cm