KONNWEI KW600 digital battery tester for vehicle with manu battery capacity tester/battery load tester



Features:
KW600 is the newest battery tester upgraded from the old classic backlit tester in the market, aiming at check battery health fast and accurately, as well as check the alternator working status.

It's a professional vehicle diagnostic tool for checking your battery system issues by using the graphing voltage monitoring tool, with its color screen and unique pattern design, life time free update service, the KONNWEI KW600 is a perfect battery testing tool for your job and the family .
KONNWEI KW600 is mainly targeted to analyze the battery healthy status to calculate the actual cold cranking, capability of the battery and the aging extent, which provide reliable analysis evidence for the test and maintenance of the battery.

KW600 notifies the users to replace battery in advance when the battery getting aged KW600 Battery Tester Function: Identify battery status Good or Replace Check Battery Capacity - Cold Cranking Amps (CCA), DIN, EN and IEC information relative to battery rating.
Check Internal re sistance value (m) Display Life in percentage (%) Battery Cranking Test, load test Battery Charging Test, Ripple Test Graphing voltage real time monitoring Test results storage and review Print test results and battery report on PC Life time upgrade Free KONNWEI KW600 Languages Chinese, English, German, Franch ,Japanese, dutch, Russian, Spanish,italian , Arabic, Portuguese, Korean.
---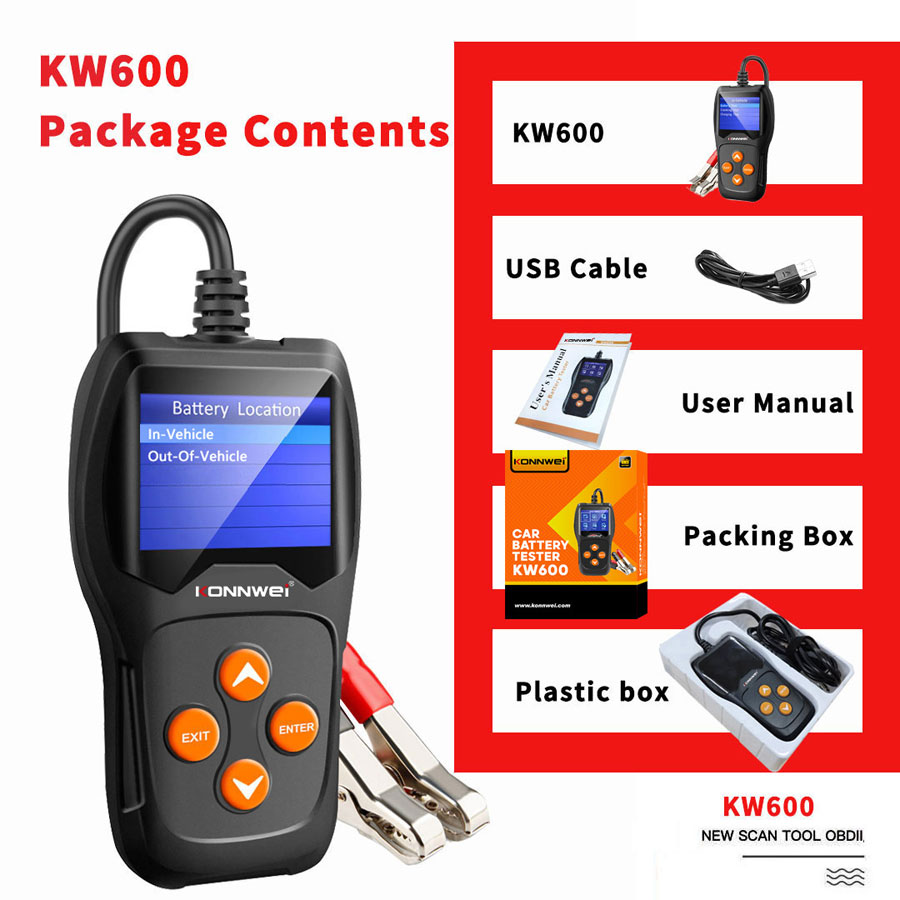 KW600 battery tester functions & features:
1.System voltage: 12 Volts
2.Test Result: Good, Recharge or Replace
3.Capacity - Cold Cranking Amps (CCA), DIN, EN and IEC information relative to battery rating.
4.Internal resistance value (mΩ)
5.Life in percentage (%)
6.Cranking system
7.Charging system
8.Voltage test in waveform
9.Record and re-play battery data, Life-time free update service
10.Battery test, cranking test, charging test and other additional functions.
Specifications and Support Languages:
1.Measure Standard
2.CCA:100-2000
3.BCI:100-2000
4.CA:100-2000
5.MCA:100-2000
6.JIS:26A17-24SH52
7.DIN:100-1400
8.IEC:100-1400
9.EN:100-2000
10SAE:100-2000
11Display: Color TFT LCD Screen
12.System Voltage:12 Volts
13.Input Voltage Range:8V-16V
14.Power Requirements: No internal batteries required.
15.Power on when hooked up during testing.
16.Operating Temperature:0℃-50℃
17.Storage Temperature:-20℃-70℃
18.Weight:0.4Kg




Support language:
12 Languages :Chinese, English, German, French ,Japanese,Korean, Dutch, Russian, Spanish,italian , Portuguese , Polish



Application:
1-Use a test a wide range of 12v batteries(Starting{SLI},
2-Deep Cycled and Marine) of Wet(Flooded),VRLA or Maintenance Free (MF),
3-Sealed Maintenance Free (SMF),
4-Absorption Glass Mat(AGM),EFB and GEL Cell.
5-The major battery standards CA,CCA,BCL,MCA,JIS,SAE,EN,GB,DIN and IEC are supported.



Package includes:
1*KONNWEI KW600 Auto Diagnostic Scanner
1*Mini USB cable
1*User's Manual